16 September 2022
Due to a revised weather forecast for Sunday 18 September 2022 this weeks racing has been canceled.
The revised forecast shows large storm & rain activity in front of the birds for the whole journey home which was not present when the earlier decision was made.
A revised Race schedule will be provided shortly to all members.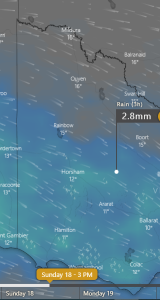 14 September 2022
Due to the forecasted weather conditions basketing will be Friday 16 September 2022 for a race on Sunday 18 September 2022.
Rooms to open from 5.30pm with basketing to commence from 6.00pm.
Due to the forecasted increase of rain during the day as the birds approach Melbourne and the high chance of thunderstorms during the day through to late in the afternoon on Saturday it has been decided to basket on Friday for a Sunday race.  Sunday whilst will have small patches of rain is expected to be a cleared day for racing.